Frequently Asked Questions
All the essential information you'll need to become an AV Volunteer
Gap Year Travel Advice and FAQs
Our vision at Africa & Asia Venture (AV) is to create volunteer opportunities for you to live and work in the developing world, to have an 'experience for life' and to promote global citizenship. Our expertise and knowledge will allow you to get the most from your experience whilst knowing you are in safe hands.
We've put together the following gap year travel advice based on what our volunteers have asked us over the years. If you have a question that isn't answered here, please feel free to pick up the phone or drop us an email – we're always happy to help!
What makes AV different?
We get to know you and treat you as an individual – before departure, whilst you are abroad and after your return. That's why over half of all those who join us come on the recommendation of someone who is a past AV volunteer.
We are truly able to do this as we stay purposely small, working with only 100 gap year volunteers each year.
We interview each applicant – and take up two references – to ensure that individuals are matched as well as possible, in pairs or house groups, and that the project you choose is the best and most suitable for you.
As a non-profit, our focus is on providing both volunteers and our partner communities with the best experience possible. Approximately 55% of our income is spent in the developing countries in which we work.
On selected gap year projects our volunteers have the opportunity to do up to four weeks of supported independent group travel.
Who gets the best out of AV's programs? We have had people from all backgrounds from 30+ countries and there is only one answer to this – and it is those who have the right attitude. We are looking for young people who are adaptable, committed and resilient – and have a sense of humor! However, we regret that we cannot accept people who are adjudicated, court-mandated or requiring regular in-field therapy.
How does AV select the places to which we go?
We select areas that we believe will derive great benefit from having young, enthusiastic volunteers to help with the work, provide a window onto the outside world and give some additional financial support to the community. This usually means going to the poorer, rural communities where relatively small amounts of effort and money can make a big difference. Our aim is to turn you into a lifelong friend of the country and the project. We work in conjunction with Ministries of Education.
Do I need any teaching experience?
No, not at all – we will cover teaching techniques and lesson practice during your in-country induction course. You are not required to do a TEFL course before joining one of programs but it can be helpful to do so. It should cover useful topics like teaching large classes, teaching with limited resources, cultural awareness, teaching young learners, storytelling with young learners and classroom routines. If you wish to do one, we recommend that you consider our preferred partner, TEFL Express.
Essential eligibility criteria
AV's gap year full-immersion volunteering programs are designed to enable young people to make a meaningful contribution to communities in developing countries. They are meant to be challenging (emotionally, mentally and physically) – and purposeful.
Our essential eligibility criteria are intended to help potential participants understand what to expect and what will be expected of them if they are accepted into an AV program.
General
All participants must:
Be aged over 17 when they start their AV program.
Be able to speak, read and write English – but they may come from any country: although AV is based in the UK we have had participants from 30+ countries.
Be fit to travel
Be able to fund their time with AV being the program cost and all ancillary costs such as flights, visas, insurance etc.
Treat with respect all members of the group, local contacts and others they encounter whilst on the AV program.
Take responsibility for and manage their health and well being independently, including but not limited to: hydration, general nutrition, mobility and administration of any prescription medication.
Listen to and respond quickly to instructions given by AV staff.
Cope with the stresses brought upon by living and travelling with others in countries that are drastically different from the participants' home.
Physical
All participants must:
Be prepared to live in very basic accommodation.
Be prepared to share living and sleeping space with others, often in very close proximity.
Be prepared to help cook, clean, tidy up etc in such accommodation.
Be able to carry all of their own gear.
Discuss any medical issues (pre-existing, chronic or ones that arise during the program) with AV's staff.
Emotional
All participants must:
Be able to communicate openly, honestly and respectfully on any subject with their peers, local people and AV staff.
Commit to creating a safe environment for all group members and not, in any circumstance, threaten others physically or verbally.
Induction course
AV will run an Induction Course for everyone on arrival in country. This will be packed with useful and essential information on how to stay healthy, safe and avoid the pitfalls that await the unwary. It will also provide you with language training, some history, culture and customs, cooking tips and relevant training for the activities you will undertake.
Application process
First and foremost, as soon as you apply for AV we want to learn more about you.
We will arrange a time with you for an initial telephone or skype briefing lasting up to 45 minutes. This is a chance for you to ask ALL the questions you may have, and for you to explain to us, in your own words, all that you want to get out of  your project.
If you're not really sure what you want – we aim to help you uncover all of the possibilities!
Wherever we can, we want to make it happen for you and, taking the time to get to know each of our volunteers as individuals means that we can build a gap year experience around you. We aim to match individuals and groups to projects/placements and to make sure that you have an truly rewarding and unforgettable experience.
Then What?
Assuming that we can find something we think will suit you, we will offer you a place. You can then decide whether you want to accept the offer – or not. If you do, we will ask for a registration fee, to cover our administration costs.
We will then send you lots of detail about your placement and you can then relax, knowing that you have the place (and probably the plan).
Several weeks before departure we will send you more information, discuss your flight plans and ask you for the final balance.
Shortly before departure, we will send you a list of contact details for those in your group, pairings and house shares.
THEN……Its time for your volunteering adventure to begin!
Prices and Program Dates
View our up to date departures and prices: Dates & Costs
We are a not-for-profit which means that our costs, are just that. For more details on how the money is spent, see "Why does it cost to volunteer?" (the 'faq' item below).
We know that it's a huge challenge to raise the funds for your trip. However, fundraising and learning to budget are an important part of the experience and we are on hand to guide you through it.
We have a fundraising pack with lots of ideas from ourselves and old AV volunteers, and we're always on the end of the phone for advice and tips.
Why does it cost to volunteer?
Deciding to volunteer in the developing world is a big decision and at AV we like to be up front about the cost involved in volunteering. You are very kindly offering to donate your time, energy, enthusiasm and skills to a community in the developing world, but there are costs associated with doing that including:
Researching, planning and overseeing the projects to ensure that they are , and continue to be, beneficial to our partner communities.
Volunteer support – we are available 24/7 whilst you are on the project, but we are also here to support you in the lead-up and after you return. We pride ourselves in being a specialist volunteer organisation that really cares about each individual. You will become part of the AV team and, as so many past volunteers have told us: "Once an AV, always an AV!"
We have a second-to-none reputation for excellent management and care, with in-country representatives (not agents) and each of our experienced staff have personal, in-depth, country knowledge.
Covering costs such as food and accommodation during the project. It is essential that our volunteers are in no way a financial burden to their hosts so all living expenses whilst there must be covered.
Essential overheads including insurance, office expenses, admin, marketing etc. (Not the most exciting, but all necessary).
By applying to volunteer with Africa & Asia Venture, you enable us to continue running our registered charity, the AV Foundation, which distributes funds to educational projects in the communities in which we work.
On average:
55% of AV project costs are spent in country to help to support the local economy in different ways.
40% is spent on volunteer support, admin, marketing and administering our charity, the AV Foundation.
5% is reinvested in developing future projects.
What is included?
Before departure:

Pre-departure information, support and advice
A nominated member of the UK volunteer support team
Optional one-to-one face to face briefing for UK applicants
Telephone/Skype briefing for all applicants
References taken up
Advice on flight booking or individual flight arrangements
Briefing for nominated flight departures from London airport

In-country:

In-country representative
24/7 in-country backup
Meet and greet at airport (if arriving on the nominated flight)
Airport transfer (if arriving on the nominated flight)
In-country induction course
Accommodation in the village during your project
Food allowance while in the village for the volunteering period
Management of emergencies, including lost passport, illness, etc. whilst in-country

Upon returning home:

Returning home advice
Full telephone debriefing
What's not included:
COVID-19 PCR tests and fit for travel certificates
Any costs incurred from self-isolating or quarantine
Flights
Train travel
Travel Insurance
Country visas
Meeting of arrivals not on the nominated flight
Accommodation/transfers for early/late arrivals
Airport transfers or accommodation at the end of the project
Medical expenses, e.g. inoculations, malaria prophylactics
In-country medical expenses
Drinks, including bottled water
Tips/gratuities – No tips/gratuities for AV staff are necessary or expected
Spending money
Extra activities that you choose to do
Food, transport and accommodation on independent travel or travel at weekends
How do I go about raising the money?
AV will send you some very helpful tips about how to raise the money you will need to see you through your trip. We have been helping young people with this vital part of their Gap Year since 1993, so are getting quite good at it! You could use a platform like PatchworkIt or Easy Fundraising to raise funds for your Gap Year.
How much spending money will I need?
This is the most commonly asked question and the one that is hardest to answer, not least because there is huge variety between countries and between individuals. In general:
During the placement it will depend on how social you are.
In Africa you can spend from £300-400 on visiting friends, drinks and travel to do interesting things during your volunteering phase.
In Asia costs are less and you could spend £200 plus – many even get by on their allowances whilst volunteering!
During the independent group travel period.
In Africa we recommend you bring £750 plus to cover travel and fun.
In Asia travel is generally cheap, and we recommend £600 plus.
Extra Excitements. If you decide to do all the expensive things such as bungee jumping, white water rafting, see gorillas in Uganda, trek Mount Kilimanjaro, flying anywhere, you will need more.
Personal safety
These are some useful tips that will help you stay safe abroad. They will be covered on the Induction Course in more detail:
Be especially careful when drinking. Most losses, thefts, assaults, accidents, arguments and one-night stands are the result of too much alcohol.
Be alert to your surroundings at all times.
Don't travel alone unless absolutely necessary (AV never allows travel alone).
Try not to travel at night.
Find out where the dodgy areas are in towns, cities and countryside and avoid them.
Be aware of the threat from wildlife.
Plan your trips thoroughly and try and ensure someone else knows:
Where you are.
Who you are with.
Where you're going.
When you are leaving.
When you plan to arrive.
Don't assume everyone who speaks to you wants to be your friend.
Don't assume everyone who speaks to you wants to steal your possessions or harm you.
Treat everyone in a polite and courteous manner.
Dress appropriately, especially in sensitive places such as churches, mosques, shrines, etc.
Don't smoke or drink alcohol in sensitive places such as churches, mosques, shrines, etc.
Be sensitive to others, especially if you are in a large group. Loud, noisy and boisterous groups can change the atmosphere instantly and may cause offence.
Always be prepared to refuse a lift if:
The vehicle looks unsafe.
You think the driver may have been drinking/taking drugs.
The driver is driving dangerously.
You feel unsafe.
Personal security
Keep a copy of your insurance documents with you, and leave one set at home with family.
Don't carry too much cash on you.
Don't display cash and valuables for others to see, if you can avoid it.
Wear a money belt (under your clothes). Carry credit/debit cards rather than large amounts of cash.
Carry a couple of small, good quality combination locks (for your bags, drawers and rooms).
Never be separated from your kit, unless you leave it secure.
Always have someone sober in your group, watching out for everyone and their kit.
Don't wander off alone, or with strangers, and never at night. Don't allow your friends to, either.
What happens in an emergency?
Risk assessments have been written for all the areas in which AV operates and our experienced in-country staff is on hand to take the lead in sorting out emergencies. All AV in-country staff are either indigenous to that country or have lived in that country for many years. As such, our staff are able to communicate with the local people, medical authorities and any other officials who our volunteers may need to liaise with during their time on one of our programs
We constantly review our placements in the light of the developing situations and the risks posed. Our UK staff is also available to assist at very short notice, should the need arise.
What are your links with the Foreign, Commonwealth and Development Office (FCDO)?
Our in country staff stay in regular contact with the FCDO (through meetings, on the telephone and their website), to stay abreast of the security situation and other matters that may be of interest.
Which documents should I take with me?
Passport (it must have at least 6 months left to run on it from the date of arrival back home after the scheme has ended).
The appropriate credit/debit card.
Vaccination certificates.
Travel Insurance documents.
You should leave copies of all these documents at home and take copies with you to leave with the AV in country staff. It is also an excellent idea to scan the essential documents and email them to yourself, so that you can call them up if you need to (lost passport, etc).
What happens if I get sick?
There are well-practised procedures in place on all AV placements to deal with AVs who get sick. You will be well briefed on them during the Induction Course. AV has in country staff that will be available to advise and make whatever arrangements are necessary.  Your insurance will cover any medical expenses you incur, less the excess charge.
Will my mobile phone work and are there email facilities handy?
Mobile phones are becoming more widespread in the developing world, but mostly on local circuits. If you take your phone with international roaming it will probably work (ask us and your provider in advance) but be very expensive. Also, our experience is that frequent connection to family and boy/girl friend makes the settling in period more difficult. Our advice is to take one, but resist making calls for the first two to three weeks. In some places it is possible to buy a local simcard, but others restrict purchases to residents. Even then, it's better if you can get your family or friends to call you! Email is available within reasonable distance of most places. However, this often involves a bus ride. Letters can arrive (and be posted) every day – so letters are usually better. Parcels are a different issue altogether!
Our rules
As we treat participants as adults and have an exhaustive application process (involving the take up of two references and an in-depth briefing), we have few rules. However, illegal drugs will result in the individual responsible being required to leave immediately. Subject to any local laws, alcohol is not banned on our programs – BUT those misbehaving because of excessive consumption of alcohol will be given one warning and a second offence will result in the individual being required to leave the program immediately.
We advise strongly against sexual relationships, especially with sex workers. If it is necessary for you to take prescription drugs, you will be responsible for looking after them carefully at all times. Also, for the benefit, enjoyment, health and safety of the individual and other participants, we will require anyone to leave the program if, in our absolute discretion, we consider he / she has failed to act in a reasonable and responsible manner towards himself / herself, to others in the group and / or to anyone else with whom he / she may come into contact.
Can I travel in the area after AV?
We suggest you book a flight with a permitted change on the return leg, so that you can change the date of your return (normally incurs a fee by the airlines).  You will also need to notify us in good time to extend your insurance, at a small cost. Please consult us if you want to travel on.
Country information - 'Travel Aware'
Find out what the Foreign, Commonwealth & Development Office says about the country/countries you want to visit.
Check their web site at: https://travelaware.campaign.gov.uk/ or click on the logo. Follow them on Twitter @FCDOtravelGovUK and Facebook @ForeignCommonwealthAndDevelopmentOffice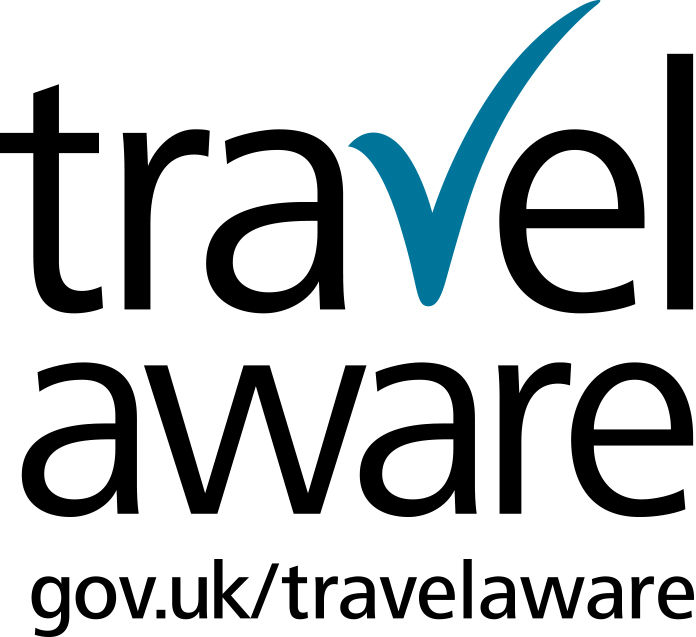 Is It safe to drink the water?
Probably not. You can either boil the water or use bottled water, which is in plentiful supply, wherever you go. Alternatively, there are water purification tablets and systems that you can buy before you go, should you wish, although they are a luxury you won't really need.
Which is the best mosquito net?
This is a matter of personal preference, but we do suggest that it has something attached to tie it up to the ceiling, such as a sticky-backed hook (you'll need several for your trip). Or try the more expensive, but easier, pop-up net.
What Malaria tablet should I get?
We recommend you contact your GP for advice. We also recommend that you contact MASTA. They are experts on such matters and will advise you on the best prophylactics for the country/countries you are visiting.
What if I'm not visiting a Malaria area until the end of my trip?
You have quite a lot of free time and you never know when you will be travelling through a Malaria area. It is best to be well prepared. Obviously, if you are certain you will not be anywhere near a Malaria area, don't take the pills. Just remember to start taking them as prescribed before you do travel into a Malaria area.
Can I buy sanitary products out there?
We suggest you take an immediate supply with you, but you should be able to get whatever you need fairly locally once you know your way around.
Will I be able to cope?
During the first two or three weeks, you may be slightly overwhelmed by a wide variety of culture shocks and you may wonder if you can cope. This feeling is pretty universal and almost everyone finds that, after the first few weeks, life just suddenly gets better and better. About 1 in 200 of our volunteers returns home early and, of these, only a small percentage because they find themselves unable to deal with the situation.
Inoculations
Find out from your GP which inoculations you will need, you can also visit MASTA for the latest advice. Don't leave it until the last minute and don't forget to cover yourself for all the countries you are likely to visit. We will send you a Medical Brief.
Travel insurance
You must have adequate insurance to cover the activities you will be undertaking.  Think beyond the project you are going out to do.  In your spare time and whilst travelling, will you be white-water-rafting, scuba diving, climbing mountains or doing anything else you should have adequate insurance cover for?  Anticipate the right cover and read the small print very carefully – you don't want to find you are only covered for diving down to 25 metres if your accident occurs on a 30 metre dive!
Health
Only drink bottled water that comes in a properly sealed bottle or that you have boiled yourself.
Where this is not possible, use purification tablets or water purification systems.
Ensure your food is properly washed/cooked/prepared.
Take your malaria prophylactics as required and don't forget. Remind each other daily/weekly.
Apply anti-mosquito sprays before sunset. Sleep under a properly treated (Permethrin) mosquito net.
Protect yourself from the sun with sunscreens, hats and appropriate clothing.
Treat insect bites and cuts with antiseptic wipes to prevent infection.
Always carry a First Aid Kit within your group and have a personal one in your kit.
HIV/AIDS is prevalent in the developing world, so use your commonsense and avoid the dangers, especially when drinking!
Don't take drugs. Don't get involved in accidents/treatment involving blood injuries.
Let others deal with it if you can. If you must get involved, wear rubber gloves and wash very thoroughly afterwards.
Be alert to any symptoms that may be misdiagnosed as something relatively harmless i.e. flu instead of malaria. Ensure you doctor is aware you have been abroad if you see him about a sickness.
Be alert to any sudden body temperature changes and seek immediate medical advice if they occur. Again, ensure you doctor is aware you have been abroad if you see him about a sickness.
What to take
Ensure you take only what you need. AV will send you a very detailed kit list tailored to the country to which you are going.
Packing can be trickier than you think. It's quite difficult to travel light and easy to travel heavy. Try to travel 'smart'! Before buying lots of stuff you don't need, wait for our kit list.
Still have questions?
We're always here to help, so ask away!