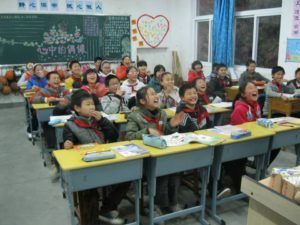 Rarely a day goes by without China being in the news.  This fascinating country has experienced an incredible period of rapid economic growth (until very recently) and the world has sat up and taken much more notice of the politics, the culture and the language.
Learn Mandarin
Everyone from US lawyers to Mark Zuckerberg have been taking Mandarin language classes, as China has emerged as a global superpower. But it's a challenging language to get to grips with, hence the reason our AVs spend the first month of their gap year in China learning Mandarin intensively.
Why volunteer in China?
Despite the growth in China over the past decade and its increased popularity as a travel destination, with people from all over the world flocking to visit The Great Wall, there is a vast divide between the regions in terms of development and wealth.  China therefore remains an incredibly important country from which to run one of our programs.  There is so much to see, so much to learn and so much to invest as a volunteer organization, which one of our AVs has summarized brilliantly below.
"Over the past four months, I can promise you that I have 'lived,' lived more than in my entire life previously. I have seen things, been places that you cannot even imagine. I've discovered places not only out there, in the undiscovered country, but inside my very self. No guide book or brochure can prepare for the emotions you will experience."
Our gap year projects and volunteer work opportunities in China begin in Hangzhou, regarded as China's most beautiful city and located just 40 minutes from Shanghai by bullet train.  Find out more about what you could experience during a gap year in China with AV!